Revenue Generating Websites
When you are ready to get started a customer service representative will contact you directly. This representative will work with you to choose a plan that fits your budget and helps you achieve your goals. As the leaders in pest control marketing, Lobster Marketing has helped companies of all sizes reach their goals and expand their borders. Lobster was born in pest control and knows what it takes to succeed. Why go it alone when you can put a pest control marketing company with a proven track record in your corner?
Website includes:
Hosting
Security
Responsive Design (Works On Mobile)
Your Brand Colors
Stock Photos Provided
PestRoutes Integrations
Industry Best Customer Experiences
CSS3 & HTML 5 Compliant
Custom Customer Portal
Sell Pest Control Online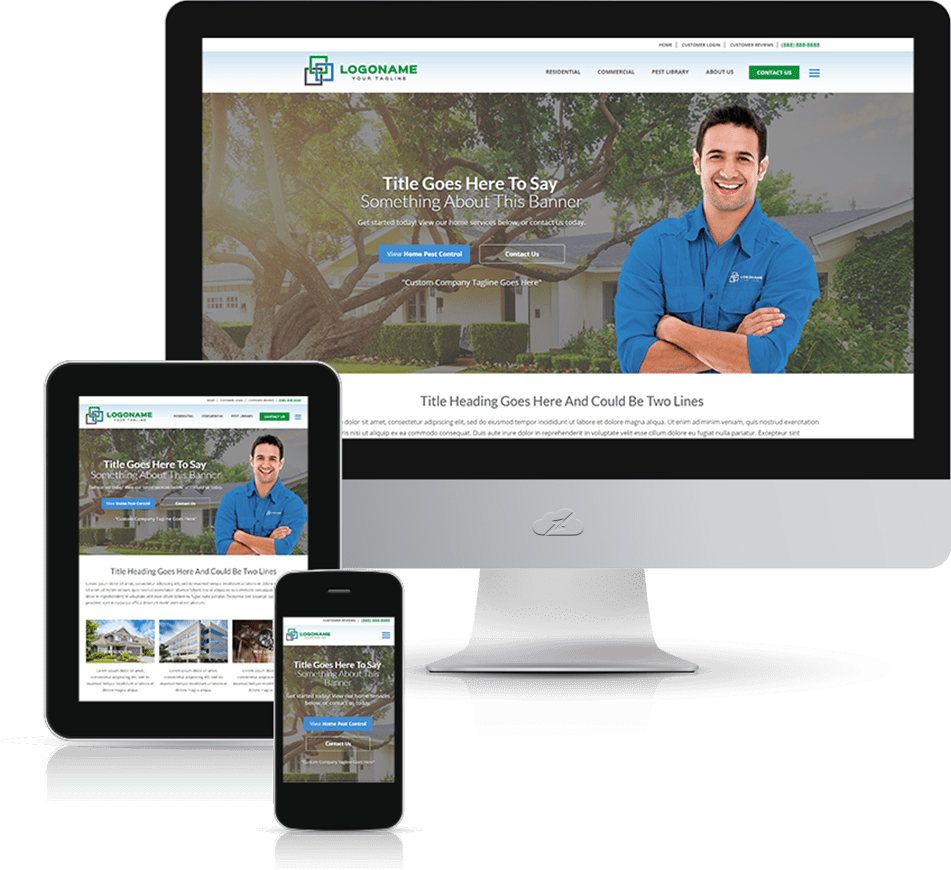 Integrated Exclusively With PestRoutes®
Features that make your new site more useful to existing customers and converts new ones faster.
For years it has been nearly impossible to combine the front end user experience of your digital marketing campaigns with your back end software. The woes of old are over! Your new site integrates seamlessly with PestRoutes, presenting a clear and consistent environment to your customers. You can finally keep your brand and message consistent across the user experience in a way that was previously unavailable to pest control companies!
Integrations Include:
Fully automated form and lead integration
Reviews displayed automatically
Allow users to buy pest control online
Change and display your deals & programs on the fly In PestRoutes
Fully Integrated Customer Portal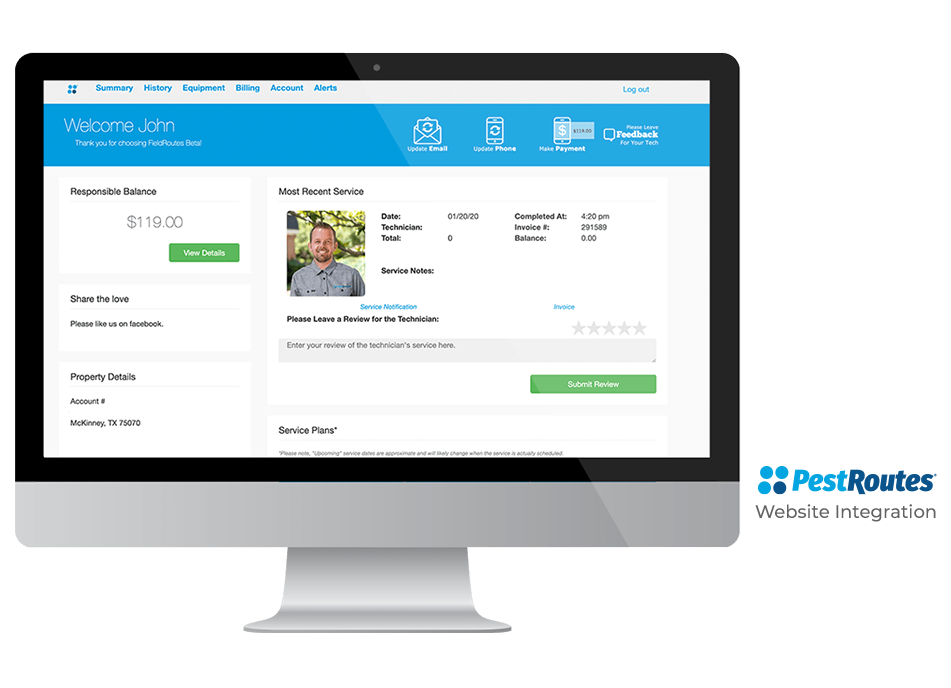 Lobster Never Tasted Better!
Website and marketing collateral designed by Lobster Marketing Group have led the industry for nearly a decade. The agency behind some of pest control's most successful brands has put years of experience into each of the sites available to you. These sites have been designed to convey the key elements a homeowner is looking for when they have a pest problem. Do you look professional? Can I trust you? How quickly can you get here? How much do you cost? These are the questions that are going through their head when the pest invasion panic has set in. Lobster has designed your new site to be the first step to putting the customer at ease by answering these questions and funneling them to conversion as quickly and efficiently as possible.
Lobster Has Worked With Over 100+
Local & National Pest Control Brands Since 2008
Optimized For Search Engines
Lobster Marketing Adds Extra Butter To Your Sweet New Website


Butter is to lobster as search engine optimization is to your website. Sure, lobster tastes great by itself, but when you add butter... Well let's just say magic happens. Likewise, a well designed and built website will complete your brand and provide a platform for lead generation, but in order to realize its full potential (i.e. drive relevant traffic and generate qualified leads), search engine optimization is critical.

Google Best Practices
All Lobster sites are built according to Google best practices. Strict adherence to these standards ensure your traffic increases without the risk of black hat tactics that can lead to getting your site blacklisted, and leaving your company looking for answers.

Optimized Content
SEO is a never ending process, and your new site will be an optimized platform ready to build a solid future on. Trained professionals pay careful attention to image file names, alt tags, meta descriptions, etc., during the implementation process to ensure your site is search friendly!

Responsive Design
Today's marketplace is no longer dominated by one device or one screen size. An effective site must be built to accommodate every customers preference. Your new site will correctly display from the smallest mobile screen to the largest desktop, reaching your audience however they desire!

Developed Under Control
In the world of SEO and Google dominance, having the ability to control every line of code is incredibly important. The newest methods of HTML5 and CSS3, as well as W3C standards, are implemented in each site and made available to you. We have done the heavy lifting so you don't have to!
Built To Convert Leads
Showing up on Google is important! Answering the searcher's question is great! Proving you are the best company available is even better! However, if all of that doesn't produce a lead is it really worth it? A clear path to the needed solution, enticing call to actions and easy access to your sales team has never been easier. Your new site uses color theory to match the emotions of pest control consumers with the correct step to using your services. Clear wording motivates potential customers to get started right away, decreasing the amount of time they take to make a decision. Years of research and analysis have created an astonishingly effective funnel for your traffic, leading to higher conversion rates.
Need A Custom Website?
Stand out from you competitors with a custom website that is unique to your pest control company. For over 10 years, LMG has been designing and building websites for pest control customers that accurately represent their brands, promotes their services, and turns their visitors into customers. When you partner with us, our team will work with you from concept to launch to ensure that the site you've envisioned is the site we deliver.

Custom Website Includes:
Hosting
Security
Responsive Design (Works On Mobile)
Your Brand Colors & Fonts
Stock Photos Provided
PestRoutes Integrations
Industry Best Customer Experiences
CSS3 & HTML 5 Compliant
Custom Customer Portal
Your Brand Colors & Fonts
Sell Pest Control Online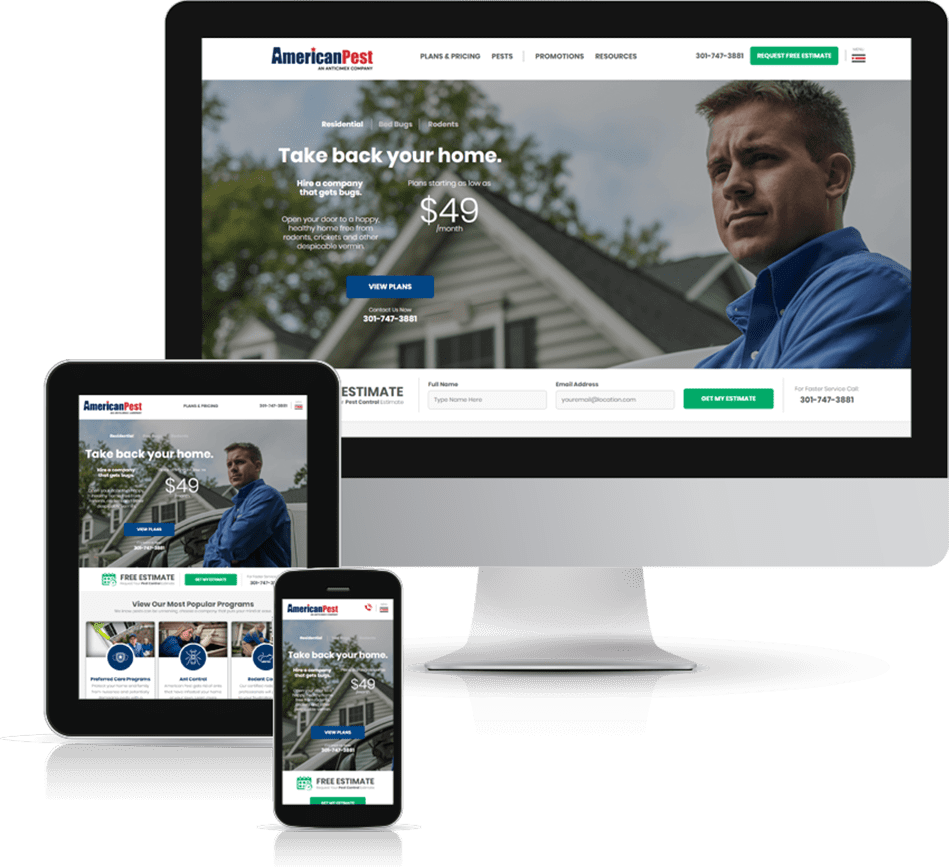 Frequently Asked Questions
Template Questions
Will My Website Integrate with
My Existing PestRoutes Account?
Your website comes fully integrated with your existing PestRoutes account. Any information such as deals and reviews that are updated in your account will be automatically pulled to your website, always keeping your website up to date and current.
What Happens When I
Outgrow This Website?
Your website is built as a platform for growth. If you want additional content or features added, we can do that! This means as you grow your website can grow right alongside you!
Am I Able to Switch
Plans at Any Time?
Yes, you can change plans at any time! Plans increase in features and services as pricing increases. You can move up or down in plan, but remember moving down may mean forfeiting valuable features or services.
Do I Have Complete Control Over
the Buy Pest Control Online Process?
Yes! We have developed these integrations and the process so that you can completely control it right from within your PestRoutes environment! When pricing and scheduling are involved, we believe it is imperative to give you complete control and that is what we have done!
Do I Have to
Sign a Contract?
Yes, because of the amount of resources required to get your site and/or services up and running we require a minimum one-year contract. We believe that any website needs at least a year to be able to be properly evaluated. However, if you are having problems along the way, no one will work harder to solve them for you than we will!
What if I Want More Marketing
Services Than Just A Website?
Yes! Lobster Marketing is a full-service design and marketing company born in pest control. Chances are, if you can think of it, we have done it. Contact us to inquire about all of our services and to get a free quote! You can also reach out to myteam@lobstermarketing.com as well!