Help your local customers find you
In spite of your company's stellar website, are you still looking for more sales? Pest control companies survive on local business, and that's why Local SEO services through Lobster Marketing Group will implement the changes your website needs to compete in the ever-changing online marketplace.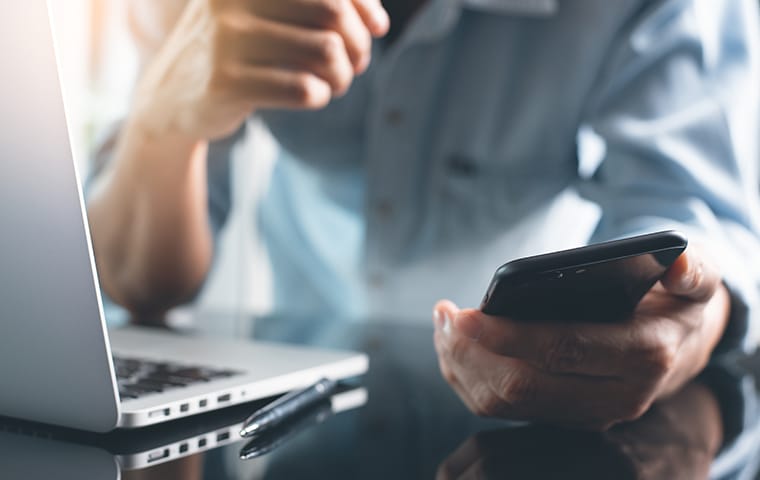 Buy Online
Local SEO Services makes it easy for customers to buy pest control services directly from your website.
Lobster Marketing provides a customized landing page where customers fill out their information, choose a package, and schedule their service. You will see newly added appointments automatically on your service schedule.
Optimized Google My Business Listing
Whether you have an existing Google My Business listing or not, we will build you a profile maximized for success. Furthermore, we will review your site monthly to ensure that your listing is continually updated with fresh content.
PestRoutes Integration
The Buy Now page reduces company costs associated with scheduling new services. This page is linked directly from your Google My Business listing and allows customers to purchase, inquire about, and schedule pest control services online without speaking with a representative. Saving you time and money.
Simple Add-On to Existing Marketing

Local SEO services through Lobster Marketing Group will boost your existing marketing efforts. Our package features a quick setup, making it as easy as possible to climb the ranks of Google, get noticed, and attract new customers.
Included:
Low risk, minimal setup

Professionally-optimized Google My Business (GMB) Listing

Full integration with PestRoutes

Online Review Monitoring

Buy Now landing page optimizations

Name, Address, Phone (NAP), Citations

Monthly Reporting detailing purchases, calls, and form submission
What are you waiting for? Contact us to schedule a quick demo to learn more.
Still not convinced? There's more...
Google Has changed - So Have We
Until recently, search engine optimization (SEO) strategies revolved heavily around keywords. Developing content involved strategic use of common words and phrases used by potential customers when searching online. Ideally, website content organically wove this language into descriptions of products and services with the intent of generating more traffic. In other words, the more relevant keywords your webpage had, the more likely it would rank highly on search engine results pages.
However, the landscape of search engines is constantly changing, and now, keywords are just one of many ranking factors. Google also uses a searcher's location, timing, previous searches, and other highly individualized content to present the consumer with personalized results.
Therefore, even if you have a well-designed website, it doesn't mean much if you can't attract new customers. Local SEO services through Lobster Marketing Group was developed to optimize your Google My Business listing. In the highly competitive online market, these changes are no longer optional, they're necessary.
Optimizing your Google My Business listing for Google's Local Search Pack requires a new approach. Lobster Marketing's Local SEO services is ahead of the curve and will navigate this new system to get your company better results.
Lobster Local SEO Gets Results
Across all media channels, Lobster-Managed Google My Business listings generate leads:
83% better than Direct Traffic
83% better than Social Media
91% better than Website or Link Referrals
Optimizations

Lobster Marketing exclusively works with pest control companies, so we know how to make sure your company gets noticed. We have a comprehensive understanding of both your industry and your customers allowing us to provide your company with the tools necessary to thrive.
Regular Posting to your Google My Business

NAP Optimization and Cleanup
Buy Online Integration Through PestRoutes

PestRoutes Schedule Integration and Buy Online Landing Page offers the following features to individualize and streamline the process of purchasing and scheduling services:
Book directly from GMB listing via appointment link

Customer logo, colors, services, pricing

Call Tracking Number & Contact Form for people who are not ready to buy

Hosted, buy online page with Secure Checkout using SSL
Your Google My Business listing links directly to your custom, branded Buy Now Landing page. Conveniently, customers can buy and schedule services immediately online 24/7. PestRoutes scheduling makes customer acquisition easy by organizing your schedule and creating a database of clients.
Performance Reporting
Each month you will receive reporting of online buys, leads generated (calls & forms), and online reviews.
Your customized online sales page features a unique call tracking number that tracks how many calls originate from your Google My Business listing. This allows both your company and Lobster Marketing Group to monitor the success of that particular page.
Even if customers are not ready to call, they can fill out a form with their personal information so that a representative from your company can capitalize on their interest.
Lobster Marketing Group's Local SEO product provides a detailed analysis of interest generated through your website. It will report online reviews, landing page form leads, call leads, and online purchases.
Lastly, our online reporting allows you to locate the source of reviews, number or reviews, and your company's star rating each month
Catch up on the latest news and articles with
The Lobster Trap